So I thought to coincide with my latest release (and as a way to procrastinate writing – sorry!), I'd explain the process I usually go through on one of my covers. In this case I'll use the cover for the upcoming sequel to "Anything He Wants".
First off, I'll start out by saying that I'm not any kind of professional. I use a free download of GIMP to work most of my images. That said, here's a taste of what goes into designing a cover.
Half the battle is finding a good cover image. Okay, 95% of the battle really. Stock photo sites (123RF and Dreamstime are my favorites as they're the "cheapest") give a wide variety of images but the search function is limited to an image's tags so you have to go through pages and pages to find what you're looking for. iStockphoto can be one of the pricier venues and of course that's where I find the perfect picture:
The image is black and white, and while I like that look it's not what I'm after for a cover. I'll need to use the GIMP Colorize tool to adjust the values. This takes some tinkering with the RGB values, sharpening the Contrast and Saturation meddling, and finally meddling with the Burn/Dodge tool to darken/lighten areas. Voila, you have a colored background image: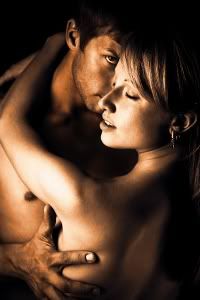 Pretty to be sure, but not done. My hero has green eyes that I want to pop, so I add a layer then manually paint in the eyes. The heroine also looks washed out with her lips so similar to her skin tone so I add a bit of red there, adjusting the opacity of that separate layer until it's about right. I do a few blond highlights on the heroine just to add color (although it's hard to notice as I kept that layer very opaque):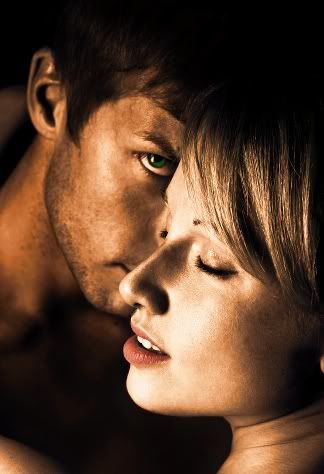 So I have a background image. Awesome, and it looks really tasty! Now for titles etc.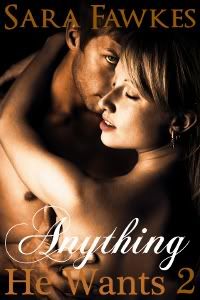 Hmm, the white word is getting lost in the background so I create another layer to add a black backdrop, making it partially opaque: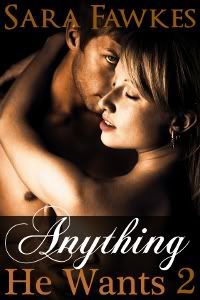 Better definitely but now we've lost the possessive hand. So I toyed with a few options, deleting portions of the black to let the background image shine through, but now it looks choppy. No longer in love with the idea, I delete that black bar and start anew, using the Airbrush tool around the back of the more curlicue spots and the edges of white-on-light.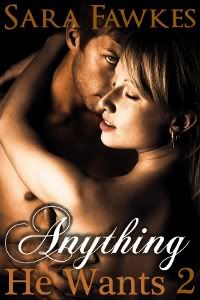 *blink* Wow. I think I have a winner! (Seriously, it always amazes me when a cover comes together) I might tweak a few things between now and publication (the non-ornate font at the bottom looks bland to my eye) but it's pretty set in stone otherwise. Now to get cracking on the story!
What do you guys think?